Flexible staffing for hospitality businesses
Book reliable and prequalified dishwashers, cooks, servers, and everything in between at the touch of a button.
Tell us what type of work you need and when
Book a gig through our app or website and we'll find someone great from our pool of prequalified workers.
We'll send an Instaworker your way
Once someone is matched to your gig you'll get notified. Your worker will show up on the time you request.
We handle all the logistics and payment
After the shift, we handle all the billing and logistics so you can spend more time running your business.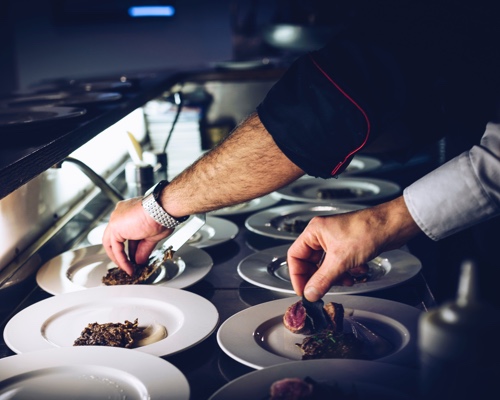 Take the worry out of staffing
💯
Qualified professionals
Instaworkers are vetted for their experience and reliability. We also check their references and ratings.
🕗
On-demand availability
If you need someone an hour from now or a month from now, we have Instaworkers ready to go.
✅
Hassle-free
Just press a button and an Instaworker shows up when you need them to. We handle all the logistics.
Instaworkers are available when you need them the most
Add staff for busy weekends or events

Find someone at the last minute in case of a call-off or no-show

Fill specific shifts on an ongoing basis

Cover employee vacations and vacancies
Simple hourly pricing with low booking fees
Spend less per hour by staffing on demand with Instawork - fully loaded employment costs exceed $20/hr.
Scheduled Gigs
Booked 24 hrs in advance of the shift
Position
Hourly Rate
Booking Fee
Event Server
$20.50
$10.00
Food Runner
$17.50
$10.00
Urgent Gigs
Booked less than 24 hrs in advance of the shift
Position
Hourly Rate
Booking Fee
Event Server
$29.00
$20.00
Food Runner
$23.00
$20.00
Frequently asked questions
Instawork started as a job board for all hospitality professionals here in the Bay Area. This means that we have profiles, employment histories, and references for thousands of professionals. To launch Gigs, we chose the best workers from our job platform and offered them the chance to pick up extra shifts. On top of having employment records, every Instaworker goes through an in-person orientation to onboard them before they can start working gigs.
Instaworkers are all 1099 independent contractors and agree to carry their own insurance as part of our Terms of Service. For more specific questions about insurance please feel free to contact our team.
Sooner is always better, both for our sourcing and for your peace of mind. For large events (10+ shifts), we prefer to have a week or more notice. Otherwise, 1-3 days is our sweet-spot for one-off shifts here in the Bay Area. If you're in total emergency - give us a call & we'll see what we can do. 20 minutes is our record so far!
We'll send you an email notification confirming the details as soons as you book a gig. We'll then send a follow up email when we've matched a worker to your shift.
Please allow workers the same breaks that the rest of your staff might be offered - usually 30 minutes off for an eight hour shift is customary. If you'd like the break to be unpaid, please reach out to our our billing department at (917) 623-1364.
While we can't guarantee an Instaworker's availability, we give priority to the Instaworkers you rate highly. So make sure to leave feedback. For hiring, gigs can be a great way to try out new staff before committing to hire. We currently do not charge a finders fee and encourage any job offers that are generated from Gigs.
If you need to cancel your gig please let us know as soon as possible by calling (917) 623-1364 or emailing andrew@instawork.com. If you cancel your gig with more than 24 hours notice - we're happy to offer a full refund. If the cancellation is last minute, however, we will not be able to offer any refund. This is mostly to be respectful of the schedules of our Instaworker who likely forewent other work opportunities to join you.
Just to be respectful of Instaworkers' schedules, please try to be as accurate as possible when you initially submit the timing for your gig. You're free to send your Instaworker home early, but you will still be charged for the full duration of the scheduled shift. This is because your Instaworker may have forgone other work opportunities in order to accept your gig.
Sign up to get fully staffed
Try Instawork today and we'll waive the booking fee on your first gig.
Sign up